Yumi Kojima (OC)

Student Info

Career
Student
Reputation
0
Club
Occult
Age
16
Persona
Loner
Crush
 ?????
Additional Info
No Additional Information Available At This Time
Appearance
Yumi has brown hair, let down similar to Midori Gurin's hairstyle. She has brown eyes just like Mina Rai and has a bust size of 1. She wears long black stockings similar to Yandere-chan's.
Personality
Among the personas currently implemented in the game, she is a Loner. If she sees a corpse or witnesses a murder, she will run home and call the police. She cannot participate in physical fights against murderers. Because she is shy, if the player has their phone out, she will hide her face.
Trivia
Yumi is in class 1-2, the same class as Sota Yuki, Yuna Hina, Juku Ren and Kokuma Jutsu.
Her teacher is Natsuki Anna.
Her favourite colour is red.
She is friends with Emi Ishimaru and Sayuri Saruwatari (Two OCs of mine).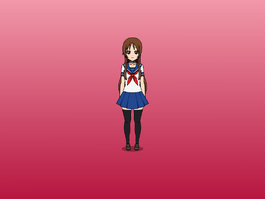 Ad blocker interference detected!
Wikia is a free-to-use site that makes money from advertising. We have a modified experience for viewers using ad blockers

Wikia is not accessible if you've made further modifications. Remove the custom ad blocker rule(s) and the page will load as expected.