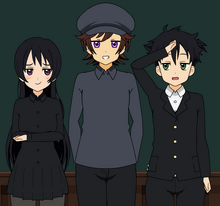 The Yakuza Organization is a group of criminals in Buraza who terrorize the city daily, and are usually the reason people get murdered outside of the school.
Members
Ryou Minako ( Leader )
Requirements
To join the Yakuza, you must...
Be 19+, no students of any sort.

Exceptions can be made if a member has a child interested in joining.

Be a criminal.
Be loyal to the Leader of the Organization.
Ad blocker interference detected!
Wikia is a free-to-use site that makes money from advertising. We have a modified experience for viewers using ad blockers

Wikia is not accessible if you've made further modifications. Remove the custom ad blocker rule(s) and the page will load as expected.