Alias

Baka, Dōbutsu-Kun, Onii-Chan

Characteristics

Race

Human

Biological Gender

Male

Pronouns

He

Age

18

Height

5'5

Weight

124 lbs

Birthday

February

Astrological Sign

Aquarius

Persona

Social Butterfly

Sexuality

Heterosexual

Personal Status

Clubs(s)

None

Educated in

Akademi High

Occupation

Student

Reputation

+62

Crush

None

Previous Crush

None

Personal Status

Status

Alive

Relative(s)

Miku Dōbutsu (sister)

Additional Info
He does not like to wear the Akademi high uniform, he usually puts it on his shoulder, except during class period.
| | | |
| --- | --- | --- |
| " | Shut up Miku, animals are eating for their survival, aren't you suppose to be an animal expert! | " |
- Urusa Dōbutsu, getting mad at Miku Dōbutsu
Urusa is a current student at Akademi High, his sister also attends that school. Urusa is a very outgoing person and is very seductive. He's always seen sucking or holding a blue lollypop
Personality
Urusa is an outgoing person, he likes to joke around and have fun. He is a very social, he can easily become friends with a person he just met, he also likes to text with his friends when he's bored. He likes to hit on girls on his free time, thus making him seductive, some people dislike hanging with him due to the fact that he likes annoying people. The only time Urusa would get mad is when he's TRIGGERED by someone, Urusa does get mad at his sister, but he doesn't get mad as he use to at his sister. Urusa rarely gets mad anymore.
Backstory
Urusa and Miku were born together, the two always did stuff together, his sister never left Urusa, and she would get worried if he were to be gone for too long. They never left eachothers side, not until his sister got into the whole "animals aren't cruel" subject, Urusa got annoyed with Miku, it all started in 3rd grade, Urusa started arguing with Miku, but they always would and still end up apologizing.
Quotes
"Miku, this is reality, you can't just go up to him and confess..."
Miku and Urusa discussing about Senpai.
"Wait, when and why did the cat people come to earth?"
Urusa talking to Miku about the arrival of the nekos.
"Miku, don't call me "Onii-Chan" in public!"
Urusa telling Miku to not call him Onii-Chan
Secrets
Thinks his sister looks kind of sexy
Sometimes hits on his sisters' friends
Use to be a Coward
Blushes when Miku calls him "Onii-Chan"
Relationships
Canon Relationships
He flirts with every girl.
Fanon Relatioships
Miku Dōbutsu: His lovable sister, which he hates and loves at the same time.
Gallary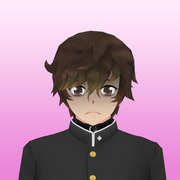 Credits to: NaviDrowned the original maker of the head/hair
(i just recolored the hair and re-did the head shape)