Tado Meka

Student Info

Career
Unknown
Reputation
10
Club
Sports Club
Age
17
Persona
Hero
Crush
Miki Arimeka
Additional Info
Obsessed with sports, and extremely perverted
Tado Meka is a student in Akademi High School, and an OC made by an avarage COCONUT who likes to make OCs.
Background
His mom is dead, and he has bad grades at school, making his father very depressed...
Personality
He is EXTREMELY perverted, and Yandere Chan can buy panty shots from him. He is obsessed with football. He is always joking and happy, but deep inside he is really depressed because of his grades at school and his mother's death.
Appearance
He has black hair like Ryusei Koki and black eyes.
Relationships
Kimi is friends with Tado and has a major crush on him. Tado thinks of her as a friend.
Like everyone in the school, he has a crush on Miki.They used to be in a relationship, until Miki found out about Kimi Zetsu. Miki thinks that Tado and Kimi are together, but Tado has sworn his heart to Miki forever.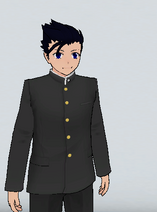 Ad blocker interference detected!
Wikia is a free-to-use site that makes money from advertising. We have a modified experience for viewers using ad blockers

Wikia is not accessible if you've made further modifications. Remove the custom ad blocker rule(s) and the page will load as expected.