Siomo Iynoya

Characteristics

Race

Human

Gender

Female

Pronouns

She

Age

18

Birthday

February 14

Astrological Sign

Aquarius

Persona

Heroic

Sexuality

Bisexual

Personal Status

Club(s)

Marital Arts

Crush

Personal Status

Status

90+

Relative(s)
Additional Info
She will do everything to keep her siblings and lover safe.
About
Siomo Iynoya is a student who goes to Akademi High School. She is followed by her younger sister's and Brother ,Shiashi Iynoya, Sako Iynoya, Namiko Iynoya, and Sakkoto Iynoya. She is together with Chimi Fushiana.
Appearance
Siomo has Ayano Aishi's hairstyle that is red. The ponytail is longer. She has red eyes as well.
Personality
Badass bitch. (Don't fuck with her when she is mad)
Relationships
Better with Chimi Fushiana
Gallery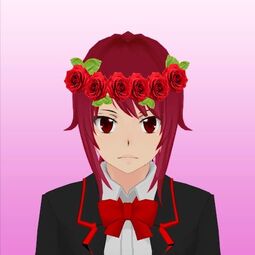 Ad blocker interference detected!
Wikia is a free-to-use site that makes money from advertising. We have a modified experience for viewers using ad blockers

Wikia is not accessible if you've made further modifications. Remove the custom ad blocker rule(s) and the page will load as expected.