| | | |
| --- | --- | --- |
| | Don't you dare to edit this page without KawaiCats's permit, except if it is fixing spelling mistakes then you can edit this page. | |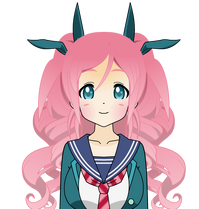 Sakura Yoshina
Alias

Sakura-Chan Kawaii-Chan

Characteristics
Race

Neko But can change to normal

Biological Gender

[1] Female

Pronouns

[2] She

Age

18

Height

5'4

Weight

99 lbs

Birthday

May 30

Astrological Sign

[3] Taurus

Blood Type

B+

Persona

Creative

Sexuality

[4] Bisexual

Personal Status
Clique

Popular

Clubs(s)

WIP

Educated in

Akademi High

Occupation

Student and Maid

Reputation

+45

Crush

?????

Lives in

Buraza Town

Personal Status
Status

Alive

Relative(s)

None

Additional Info
Claims she used to live in a treehouse in a Sakura Tree.
Appearance
Sakura has long Pink hair with lighter pink highlights She wear two clong cyan bows. Her cat ears and tail match her hair color. Her eye color is a Cyan blue. She wears her own cyan sweater and school bow.
Personality
Sakura is a Deredere and sometimes act's Himedere when around annoying people. How she will react to murder is she will find anything around her and distract the murderer as She calls the police. Sakura acts like she is 7 again due to her Shyness and Happiness. She will give Random Hugs to people and will even give kisses on the cheek! Her Lewdness is 8+. Her Dere stats: 
Tsundere: 3
Kuudere:1
Yandere: 0
Deredere: 5
Mayadere: 2
Himedere: 4
Yangire: 0
Kawaiiko: 5
Ad blocker interference detected!
Wikia is a free-to-use site that makes money from advertising. We have a modified experience for viewers using ad blockers

Wikia is not accessible if you've made further modifications. Remove the custom ad blocker rule(s) and the page will load as expected.