Rinkachi Kuzus

Student Info

Career
Unknown
Reputation
10
Club
None
Age
17
Persona
Coward
Crush
9 girls
Additional Info
He has 9 girlfriends
Rinkachi Kuzus is a student in Akademi High School, and an OC made by an avarage COCONUT who likes to make OCs.
Background
He harrasses girls, and wants them to send him nude pictures of themselves.
Personality
He has 9 girlfriends. None of them are aware of each other. One of them is Tomoshi Kazu. He is a hopeless flirt, who has no respect for personal space. He can also be incredibly rude, to the extent that even Tokachi Kataki thinks he is a douchebag.
Appearance
He has beautiful, combed, black hair and black eyes.
Relationships
Tomoshi Kazu She is his girlfriend, who has no idea that he has 8 others.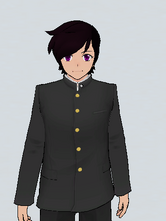 Ad blocker interference detected!
Wikia is a free-to-use site that makes money from advertising. We have a modified experience for viewers using ad blockers

Wikia is not accessible if you've made further modifications. Remove the custom ad blocker rule(s) and the page will load as expected.