| | | |
| --- | --- | --- |
| | Hey, I see that! Don't edit this page! | |
Ms peff is a (joke) OC created by User:Bluecats.
Personality
She is very strict and leaves no room for mistakes. She is overly blank.
Backstory
She was bullied as a child. She never had a family aside from herself and her mother. Her father is ded. She is overly strict because of how her mother was. She is ded inside. (Terrible grammar was done on purpose, to show the terrible-ness of her backstory)
Appearance
She has curly bangs and the rest of her hair is short and straight. Her hair and eyes are a yellow colour. She wears a blue hat, and a blue dress.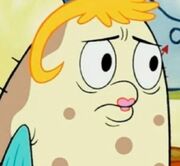 Her favorite quote is "OK, YOU LOOK LIKE SHIT!!"
She is TOOOOOOOOOTALLY A SERIOUS CHARACTER. YUP. NO SARCASAM HERE. NO YOU ARE BEING SARCASTIC!