Mia Setsuko
Characteristics
Race

Human

Biological Gender

[1] Female

Pronouns

[2] She

Age

18

Birthday
7 October
Astrological Sign
Libra
Blood Type

AB+

Persona

Social Butterfly

Sexuality
[4]

[5] Heterosexual

Personal Status
Clubs(s)

Art Club

Educated in

Akademi High School

Reputation

Normal

Crush
Unknown
Personal Status
Status

Alive

Relative(s)
None
Additional Info
Chiyo Koizumi's best friend.
Appearance
Mia is a blond-haired girl with dreamy blue eyes. She is tall and she wears a daisy pendant on both ears.
something took me here
Personality
Mia is a Social Butterfly. She is a libra, so she can't make decisions that fast like other people. She can sometimes be clumsy. She is also caring and honest. You could say she is smart.
Relationships
Chiyo Koizumi
Chiyo Koizumi is her best friend. They both love drawing and cats.
Akito Koizumi
Akito Koizumi, Chiyo's little brother, anyoys Mia. She thinks he is boring.
Routine
7:8 - Mia enters the school cheerfully talking with Chiyo, and goes to her locker.
7:15 - Mia leaves her locker and goes to the art club where she sketches dragons or cats.
8:00 - Mia goes to her classroom and sits next to Chiyo.
1:00 - Mia goes to Cafeteria with Chiyo and eats her lunch.
1:30 - Mia goes to her classroom, and sits next to Chiyo.
3:00 - Mia goes to the art club and practices drawing humans.
5:59 - Mia goes home with Chiyo.
Gallery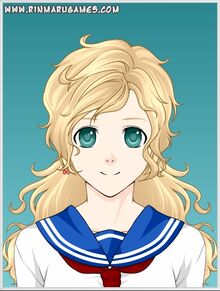 Ad blocker interference detected!
Wikia is a free-to-use site that makes money from advertising. We have a modified experience for viewers using ad blockers

Wikia is not accessible if you've made further modifications. Remove the custom ad blocker rule(s) and the page will load as expected.