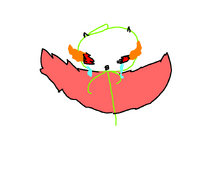 meme
meme is a joke oc by SquigTheDereDere. you dont need to ask to use them, please make fanfics
backstory
meme was created as a god when the world was first made. he was different from the other gods because he only had 1 million powers-not 2 million. meme would cut himself and disobey most people, even though he was really great 10/10. he found no purpose in life and was sad...until the 21st century. he discovered his power-making memes. he made many memes, and found his true purpose in life. he is now attending highschool to find out what kind of memes the kids like, and is still a bit evil but everyone likes him. everyone has a crush on him, and he cannot be killed. he, overall, is the best creature in the world.
please add to this. make more defining features to make him better and stronger.
Ad blocker interference detected!
Wikia is a free-to-use site that makes money from advertising. We have a modified experience for viewers using ad blockers

Wikia is not accessible if you've made further modifications. Remove the custom ad blocker rule(s) and the page will load as expected.