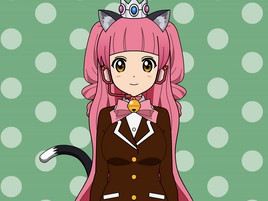 Characteristics
Race

Human/Catgirl

Biological Gender

[1] Female

Pronouns

[2] She

Age

17

Birthday

Febuary 14

Astrological Sign

[3] Aquarius

Blood Type

B+

Persona

Social Butterfly/Himedere

Sexuality

[4] Bisexual

Personal Status
Clubs(s)

Art club and Cheerleading club

Educated in

Akademi High School

Crush
Yumi Ryuzaki
Personal Status
Status

Alive

Additional Info
Looks alot like Justu Darku. Rumors say she never takes off her headphones. Wears a crown.
Appearance
Mazenta has curly pink hair that are held in two twintails and has yellow eyes. Mazenta has cat ears and a cat tail as well. She wears a princess crown often along with pink head phones. She wears a brown blazer and a pink bow with a bell on it. Mezenta is a Second year.
Personality
Mazenta is a himedere. She is really nice to new people and her Senpai's. She does hug people a lot and is extremely nice. She can sometimes be clumsy. She is also caring and honest. You could say she is smart. Taro Yamada is her really close friend, Same with Osana Najimi.
Back Story 
Mazenta was beaten by her mother and father and got thrown in the streets when she was just 2. A 22 year old women took her in and changed her last name to Murasakino. She went to a private school fors girl when she was 14 to 16 years old.
Ad blocker interference detected!
Wikia is a free-to-use site that makes money from advertising. We have a modified experience for viewers using ad blockers

Wikia is not accessible if you've made further modifications. Remove the custom ad blocker rule(s) and the page will load as expected.