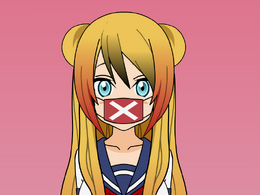 Māsharu Geijutsu
Kanji

マーシャル芸術

Rōmaji

Geijutsu Māsharu 

Characteristics
Race

Human

Biological Gender

[1] Female

Pronouns

[2] She

Age

18

Height

5'3

Weight

105.3 Pounds

Birthday

June 11, 1998

Astrological Sign

[3] Scorpio

Blood Type

O+

Persona

Delinquent

Sexuality

[4] Bisexual

Personal Status
Clubs(s)

Martial Arts

Educated in

Akademi High School

Occupation

Student, Delinquent

Crush

Budo Masuta

Previous Crush

None

Lives in

Buraza Town

Personal Status
Status

Alive

Relative(s)

????

Additional Info
Claims she is a brown belt in Martial arts.
Backstory
Māsharu was a Orphan when she was 3. She was into a private school but was put into a Boy's Only school when she was 16. She was a Delinquent type when she was 7-8. WIP
About 
Māsharu is Known to be:"Kawaii Delinquent." Known for Delinquents, They rarely have a crush Well, This one does.. Its Budo Masuta. She can also be a Yandere when torwards Oka, Shin, Osana, Ayano and Taro.
Appearance 
Māsharu has blonde hair with red highlights and is curly and is very long. Māsharu has Teal blue eyes and wears a mask that is a salmon pink or red. Wears uniform #1 Or her custom Uniform.
Personality
Māsharu is a Delinquent Persona and is a Tsundere, Himedere and Partly Yandere. She is sweet when around of people but is really vicious with her arch-rivals for her beloved one Budo Masuta.
Quotes 
"
Oh.. thank you, now get lost.
"
— Complimenting Māsharu.
"
Do you think im dumb? Now leave my sight.
"
— Asking her to follow you.
"
W-Way to close!
"
— Getting too close to her.
"
Ha. I will end you!
"
— Pulling out a weapon.
"
You never would of won anyways.
"
— Losing a fight against her.
Dere Stats
Tsundere: 5
Yandere:3
Kuudere:2
Deredere:4
Dandere:2
Himedere:4
Mayadere:3
Gallery
Ad blocker interference detected!
Wikia is a free-to-use site that makes money from advertising. We have a modified experience for viewers using ad blockers

Wikia is not accessible if you've made further modifications. Remove the custom ad blocker rule(s) and the page will load as expected.