The following character is a canon character.
Please refrain from adding fanon infomation (Eg. Fan-Made Personality, Fan-Made backstory, Fanon Relationships, ETC).
Info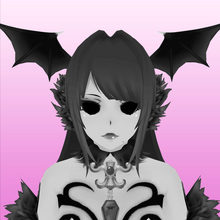 The Lust Demon is a demon and a canon character in Yandere Simulator.
Appearance
The Lust Demon has long hair. She wears very skimpy clothing. She has wings and a tail.
Ritual
Currently, the Lust Demon's ritual is unknown, as she is the only demon whose ritual has not been implemented yet.
Arum
Arum

Student Info

Career
Unknown
Reputation
Unknown
Club
Unknown
Age
Unknown
Persona
Unknown
Crush
Unknown
Additional Info
She is a placeholder model.
Arum is the placeholder model used for her, Sakyu Basu, and Dracula-chan.
Ad blocker interference detected!
Wikia is a free-to-use site that makes money from advertising. We have a modified experience for viewers using ad blockers

Wikia is not accessible if you've made further modifications. Remove the custom ad blocker rule(s) and the page will load as expected.