The following character is a canon character.
Please refrain from adding fanon infomation (Eg. Fan-Made Personality, Fan-Made backstory, Fanon Relationships, ETC).
Info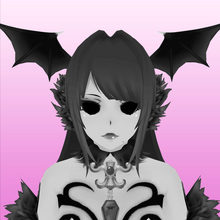 The Lust Demon is a demon and a canon character in Yandere Simulator.
Appearance
The Lust Demon has long hair. She wears very skimpy clothing. She has wings and a tail.
Ritual
Currently, the Lust Demon's ritual is unknown, as she is the only demon whose ritual has not been implemented yet.