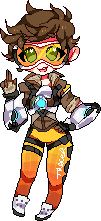 Eri Kobayashi belongs to the FANDOM user
.fIoraIfury.
. Please do not use in any fanworks unless you have my written permission. Critic is also recommended as this character could have room for improvement.
Eri Kobayashi is an OC created by .fIoraIfury.. Credit to Cybrile for the adopt.
Apperance
Eri Kobayashi has a fair complexion, a light bush covering her nose and cheeks. Acne covers mostly her forehead and can be quite noticing. She covers it with makeup and her bangs because she can be embarrassed by it. Eri has big hazel eyes, mostly wearing contact lenses. Her eyes are mostly a pastel red color.
Eri has long brown hair that is pulled into a ponytail. When pulled out, it is almost to her butt. She doesn't like it out because she might get lice. Eri styles her bangs so it covers her acne and a small scar on her forehead.
She wears the default uniform unless chosen by the player. The only changes from the uniform is that her skirt is slightly longer than the rest of the students. She wears loose socks with loafers. Out of school she wears a black shirt, the sleeves a mixture of black and right stripes. On the front of the short, it reads " SLEEP DEPRIVED" in a white box. Eri wears black skinny jeans and black high tops.
Personality
Eri is usually a bystander; not really helping others. She does this because she figures nobody needs her help and would rather keep to herself. Eri tries to excel in class, but her mind can wander and she can mess up on everything. She is loud, yelling to her friends when she wants to chat (which is very rare), and screams when she messes up on classwork or other important things. Eri also has a huge sweet tooth, mostly seen eating mints and soft candies. She also hates sharing.
~wip~