Kamille Tsubunko is so much better then you.COUGH.I mean she currently attends Akedemi High Scho Kamille has long green pigtails held up by fabulous purple bows.She also wears a purple slinky that is on her right side.she also has purple eyes that turn orange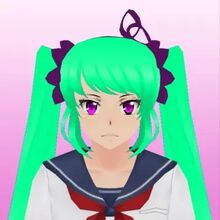 She is so much popular then you. She fights back.She is a neko and a succubus and a vampire and a ghost and an elephant.She has a purple eyes that turn orange.Her reputation is [tel:[tel:99999999999999999999999999999999999999999999 99999999999999999999999999999999999999999999] [tel:99999999999999999999999999999999999999999999 99999999999999999999999999999999999999999999]].She owns the comment section
She is a famous movie star and singer.She stars in many movies. She says she is a queen.
Quotes "OMG I CANT BELEIVE YOU ARE SO STUPID I KNOW U R A MURDERER AND I LIKE SENPAI HE IS MINE.HE SAID HE WOULD FUCK ME WHEN PIGS FLY"-When you meet her
"I KNEW YOU WOULD KILL (student name)I AM SO MUCH BETTER THEN HER FYI!LIKE I TOTALLY NEED TO RUN!"-When she witnesses a murder
"OMG YUI!AGAIN!LIKE STOP DYING YOUR HAIR GURL!"-When she sees a blood stain
"IS THAT A (weapon name)?LIKE OMG THATS SHARP!LIKE I THINK (person in art clubs name) WANTED TO MAKE A PROJECT BUT HE WANTED TO MURDER SOMEONE TOO"-when she sees a weapon
"OMFG!!IS THAT DEAD BODY!?LIKE IM TOTALLY GONNA CALL THE POLICE!!"-When she sees a dead body
"LET ME ASK GOD....HE SAYS GO FUCK YOUR SELF IN THE ASS!"-When someone she hates confesses
"LIKE WE ARE FRIENDS BUT I DONT FUCKING WANT TO LIKE YOU!SO NOW I HATE YOU BYE!"-When someone shes friends with confesses
"LIKE OMG FUCK ME RIGHT NOW!!I LOVE YOU TOO!!LIKE YOUR MY PRINCE!!LIKE I WANT TO KISS YOU RIGHT NOW!"-When her crush confesses to her
"LIKE IM SO PRETTY AND YOU LOOK LIKE MY OBA-SAN AND I BET SHES PRETTIER THEN YOU!LIKE I TOTALLY THANK YOU FOR SAYING THOSE NICE WORDS TO ME!NOW BITCH GET OUT MY WAY!"-When you compliment her
"LIKE GURL I DONT LIKE YOU!LIKE IM NOT LESBO OK!!I DONT NEED A REMINDER TO KNOW IM BOOTYFUL"-when you compliment her too much
"OMFG!LIKE I HATE TOMATO PASTE!GET IT OFF YOURSELF!"-When she sees you bloody
"YOU HAVE A FINE BOOTY BUT I AINT A LESBO BITCH!"-When she sees you naked
"YOUR LAUGH SOUNDS LIKE A DYING COW!"-When she sees you insanely laughing
"LIKE YOUR A TOTALLY CRAZY BITCH!GO FUCK YOURSELF!"-When she sees you insane
"LIKE I HOPE YOUR TAKING ME TO THE MALL."-When you ask her to follow you
"HOW DID YOU KNOW I WANTED TO SASS TALK (person you told her to distracts name)-When you ask her to distract someone
Ad blocker interference detected!
Wikia is a free-to-use site that makes money from advertising. We have a modified experience for viewers using ad blockers

Wikia is not accessible if you've made further modifications. Remove the custom ad blocker rule(s) and the page will load as expected.