{{Infobox
Image =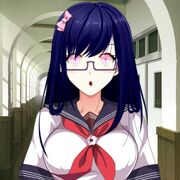 Job = student
  Reputation = +6
  Club = Gaming
  Age = 16 
  Trait = Loner
  Crush = Daku Atsu 
  Class = 1-2

}} Info = Kai is a transfer student from North America. She and her parents moved to Japan because of a job promotion. Kai's routine mainly consists of this: At 7:10 am she arrives at school, at 7:15 am she goes to the gaming club to play Pokeslender, at 8:10 am she makes her way to class 1-2. At lunch time: Kai goes to the rooftop to eat her bento, around 1:10 she goes back to the gaming club to play Corpse Party, at 1:25 she heads back to class 1-2 for her afternoon classes. After school: Kai heads back to the gaming club again to play Mario music box. After that, she heads home. Notes: Kai's friends (who are also ocs of EliteNinjaKay) will be made and added soon.
Ad blocker interference detected!
Wikia is a free-to-use site that makes money from advertising. We have a modified experience for viewers using ad blockers

Wikia is not accessible if you've made further modifications. Remove the custom ad blocker rule(s) and the page will load as expected.