all info is outdated
Inchigo Shian
Alias

Shian-san, Chigo-chan

Characteristics

Race

Human/Neko Mermaid?

Gender

Female

Pronouns

She

Age

18

Height

5'3

Weight

99.7 lb

Birthday

May 1st

Astrological Sign

Taurus

Blood Type

O+

Persona

Kindhearted

Sexuality

Straight

Personal Status

Club(s)

Swim Club

Educated in

Akademi High School

Occupation

Student

Reputation

40

Crush

None

Previous Crush

Budo Masuta

Lives in

Buraza Town

Personal Status

Status

Alive

Additional Info
Loves to swim but has a dark secret about swimming.
Appearance
Chigo has cyan blue hair that is in braids. She also has blue cat ears and a blue tail. She has bandages on her right eye to cover hide the wound. Her left eye is purple and her right eye is green. She wears light blue and blue knee high and thigh high stockings and a collar.
Personality
Chigo is a Kindhearted person. She also has a friends, friends named Chrys-kun and Kyoko-san. She is really nice to new people and usually nice to the Delinquents.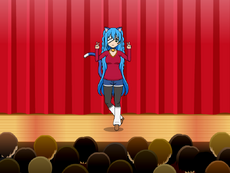 Ad blocker interference detected!
Wikia is a free-to-use site that makes money from advertising. We have a modified experience for viewers using ad blockers

Wikia is not accessible if you've made further modifications. Remove the custom ad blocker rule(s) and the page will load as expected.