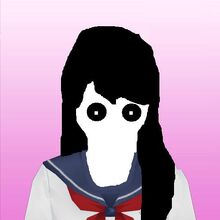 Appearance
Ima, wears the original uniform and has white skin. She has white pupils and black eyeballs. She has long black hair.
Persona
She can be evil. If she knows students with 1- rep she will blackmail them get people to gossip about them/she/he. She is very much of a loner. She only comes to school once a week to stalk new victims. She can be a mysterious girl. She does not have an exact persona.
Ima The Beam

Staff Info

Career
Giving Information
Club
Info Club
Age
18
Persona
Evil/Loner/Unknown
Crush
Unknown
Backstory
She was first unknown as "Info-Chan 2" She got mad about she she made her official name Ima The Beam. She goes by Ieam. (Ima and beam together). She makes herself very mysterious. She is a partner of Info-Chan but is not very well known.. YET...... -Evil Laugh-
Trivia
Ima is the first OC of Emi.
Ima is evil but she can be nice.
Ima likes listening to rock in roll
Her favorite food is Chicken
Her favorite drink is any japanese soda.
Ad blocker interference detected!
Wikia is a free-to-use site that makes money from advertising. We have a modified experience for viewers using ad blockers

Wikia is not accessible if you've made further modifications. Remove the custom ad blocker rule(s) and the page will load as expected.