OC Belongs to Kawaii-Chan From Phoenix Drop. Ask before use!~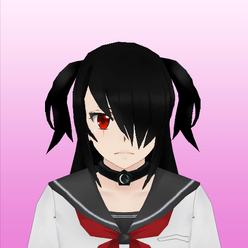 Haruhi Dustu
Alias

Haruhi-Chan, Dustu-Sama..

Characteristics
Race

Human and ???

Biological Gender

[1] Female

Pronouns

[2] She

Age

18

Weight

102 lbs

Birthday

Club

May 14th, 1998

Occult Club

Astrological Sign

[3] Taurus

Blood Type

Crush

AB+

????

Sexuality

[4] Straight

Personal Status
Educated in

Akademi High School

Occupation

Student

Lives in

Buraza Town

Personal Status
Status

Alive

Additional Info
Appearance
Haruhi is a Dark person. Rumors say that she once Smiled. She has black silk hair and red eyes. She has a scar on her left eye. Her bangs cover her right eye. She wears thigh-high stockings that are black with red polka dots on them. She wears Red and black coverses to school instead of her School girl shoes. 
Personality
Haruhi is a really dark person no doubt. But people say she smiled once and that was her first time she smiled. Haruhi is a Dandere and a Yandere.
Gallery 
WIP
Ad blocker interference detected!
Wikia is a free-to-use site that makes money from advertising. We have a modified experience for viewers using ad blockers

Wikia is not accessible if you've made further modifications. Remove the custom ad blocker rule(s) and the page will load as expected.