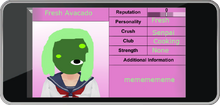 FRESH AVACADO

Staff Info

Career
Being a Fresh Avacado
Club
Cooking Club
Age
Unknown
Persona
Fresh
Crush
Senpai
Fresh Avacado is.....rival thing that goes to akedemi high school
Appearence
They where the female uniform and have green hair and green eyes and one black buck tooth. Their head is a fresh avacado.
Routine
They wake up and brush their tooth with avacado toothpaste. They eat Avacado Frech Crunch Cereal. They go to school. They hide in their locker which is full of avacados. They go to class. They stalk Senpai while eating their Avacado Bento. They go back to class.They go to the cooking club and eat Fresh avacados.
Task
To not eat them......
Trivia
THIS IS A JOKE OC
Ad blocker interference detected!
Wikia is a free-to-use site that makes money from advertising. We have a modified experience for viewers using ad blockers

Wikia is not accessible if you've made further modifications. Remove the custom ad blocker rule(s) and the page will load as expected.