Emma Bearstein

Characteristics

Race

Human

Gender

Female

Pronouns

She

Age

18

Height

6'7

Weight

???

Birthday

1/20/1199

Persona

Sadistic

Sexuality

Bisexual

Personal Status

Educated in

Akademi High School

Occupation

Student

Crush

Personal Status

Status

Alive

Additional Info
None for now.
About
Emma was Born in Germany and moved to Japan. She got in to Akademi High School with her Megalomaniac Personality. She was poor at making friends, so she turned to using people like pawns and found herself slowly getting to the top. She is also the next in line to a top German Mafia which her father rules, she is also a shy person in groups.
Appearance
WIP
Personality
She is a Evil Persona and Megalomaniac and Illusory superiority .
Relationships
wip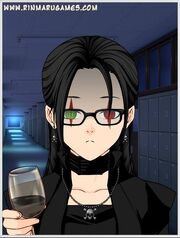 Trivia
She finds pain nice, she finds it nice to see people fight. Just to Note she well kill anyone who makes fun of anyone friends with her or picks on them
Ad blocker interference detected!
Wikia is a free-to-use site that makes money from advertising. We have a modified experience for viewers using ad blockers

Wikia is not accessible if you've made further modifications. Remove the custom ad blocker rule(s) and the page will load as expected.