Doro Hitsuyo
Alias

Doro-chan

Biological Gender

Female

Pronouns

She

Personal Status

Clubs(s)

Light Music

Educated in

Akademi High

Occupation

Student

Reputation

0
Doro Hitsuyo is an OC by Telts23 based on herself.
Personality
Doro is a very dreamy person. She loves drawing and writing poetry. Although she seems to zone out in class, she is still one of the top students. During breaktime, she plays with her friends or just talks to them in private. She also plays the accordion and the piano.
She is a ruined child. While other girls at Akademi High just wanna gossip, Doro tells dirty jokes to everyone to brighten their days. Inside, she is a 5-year-old child. She does not, however, show that side off to teachers. As far as they're concerned, Doro is an angel.
Doro is a Screamer.
Routine
She enters the school grounds at 7:05. She reaches her locker at 7:10 and lingers there for five minutes. She then goes to the plaza to communicate. At 8:00, she walks into Classroom 1-1 and sits down by her desk. She exits the classroom at 1:00 and goes to the cafeteria. She walks back to her classroom at 1:30. She exits the classroom at 3:30 and goes to the Light Music club. Doro stays there until 4:15, then she goes home
Profile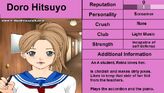 Ad blocker interference detected!
Wikia is a free-to-use site that makes money from advertising. We have a modified experience for viewers using ad blockers

Wikia is not accessible if you've made further modifications. Remove the custom ad blocker rule(s) and the page will load as expected.