Warning: Do not steal this OC because Porcy's daddy is Trump and he can have you executed.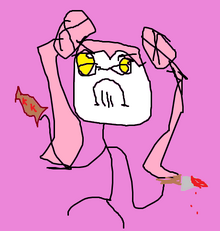 This is Porcy's OC, Choko Reto Sugoiko Paint. She is a tsundere brat who likes chocolate and Sailor Moon. She is also a yandere and a chocolatedere. She is also a pink-haired loli.
She can respond to any questions/comments you have for her in the comments!
Ad blocker interference detected!
Wikia is a free-to-use site that makes money from advertising. We have a modified experience for viewers using ad blockers

Wikia is not accessible if you've made further modifications. Remove the custom ad blocker rule(s) and the page will load as expected.