Wip, owned by
NightoftheDedsec
and
GensokyoAngel
(Gensokyo will put her on his wiki as well)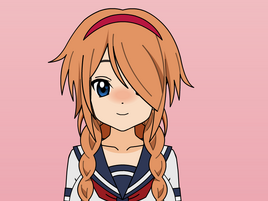 Chokorēto Aisukurīmu
Kanji
WIP
Alias

Choco-Chan Aisu-Chan

Characteristics
Race

Human

Biological Gender

Female

Pronouns

She

Age

18

Height

5'5

Weight

98.5 Pounds

Birthday

December 24th

Astrological Sign

Leo

Blood Type

AB+

Persona

Kuudere/ Heroic

Sexuality

Bisexual

Personal Status
Clubs(s)

Astronomy, And Cosplay

Educated in

Akademi High School

Crush

Emily Lawliet

Additional Info
Most like to never talk
 Appearance
Choko has light carmel hair and Sky blue eyes, Her hair is in twin braids. Her bangs cover her right eye. She wears a red headband and wears any type of socks you can imagine.
Personality
Choko is a really quiet person until she Met Emily. She is the third strongest kid in the school.
Backstory Edit
Rumors say that she has been punched in the throat causing her to be quiet. WIP
Ad blocker interference detected!
Wikia is a free-to-use site that makes money from advertising. We have a modified experience for viewers using ad blockers

Wikia is not accessible if you've made further modifications. Remove the custom ad blocker rule(s) and the page will load as expected.