Ase Bath House
A bath house that connects to a group of hotsprings. While public, there are many fees that come with bathing here, such as towels, food, rooming, and reserving a hot spring. It is located on the side of town, over the river, and gets most of its electricity from hydropower.
Miya Mirai Animal Shelter
Lost, abused, and stray animals are protected and cared for here. Some of the students' pets hail from this shelter. Hideko Juro, a lover or cats, does not work here for an income, although she does donate and volunteer. The shelter's name literally translates into "Beautiful Future."
Satonaka Playground
Where Senpai and Osana Najimi played as young children. If they ever promised to marry each other when they got older (a common anime archetype and cliche), then it was done here.
Kiseki-Tekina Laboratories
An laboratory. Belongs to the Shinjus' family. The name of the laboratory translates into 'miraculous'.
Akari Restaurant and Hotel
It is one of the most poular place in Buraza and Shisuta town to go on a date.The lights change color every ten minutes.The hire of a room is pretty low.To prevent any sexual incedents from happening you must show your ID card before you are allowed to hire a room Rin, Sakura and Airisu Akari work here.Airisu may also go volunteering for Miya Mirai Animal Shelter.
Buraza Town Public Park
Buraza's public park is a park designed for activities such as walks, picnics, and general get togethers. However, it does not have things such as a playground, so not many full families with children come to this park.
Fukui Shrine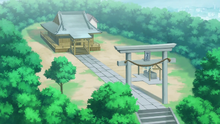 The Fukui Shrine is a Shinto shrine owned by Emi Fukui's family. Seasonal festivals are held here annually. Like Akademi, it was built on a hill in a more remote and rural area.