Bideo Gemu
Biological Gender

Female

Pronouns

She

Sexuality

Bisexual

Personal Status

Clubs(s)

Gaming

Educated in

Akademi High

Occupation

Student

Crush

None

Personal Status

Status

Alive
Bideo Gemu is one of Telts23s OCs.
Personality
Bideo is a gamer. She loves gaming with all of her heart. Sometimes she gets too caught up in it, though. But she doesn't want her gaming to interrupt her social life, and that's why she goes out to the plaza to socialize. Her best friend? Pippi. But Pippi isn't very talkative, so Bideo tries to fit in with the gossip girls. She far shyer then the rest of the girls, but Bideo feels comfortable around them.
Bideo is a Coward.
Routine
Bideo Gemu enters the school grounds at 7:05. She reaches he locker at 7:10. She lingers there for five minutes and then goes to the plaza to gossip. She goes to Classroom 2-2 at 8:00. She goes back to the cafeteria at 1:00 and walks back again at 1:30. At 3:30, she goes to the Computer Room and games there, five seats away from Ryuto, until the rest of day.
Profile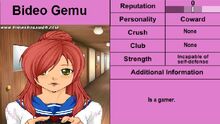 Ad blocker interference detected!
Wikia is a free-to-use site that makes money from advertising. We have a modified experience for viewers using ad blockers

Wikia is not accessible if you've made further modifications. Remove the custom ad blocker rule(s) and the page will load as expected.