all info is outdated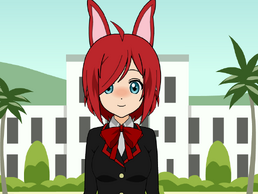 Bani Usagi
Alias

Bunny-San

Characteristics
Race

10% Bunny

90% Human

Biological Gender

[1] Female

Pronouns

[2] She

Age

18

Height

5'4

Weight

117 lbs

Birthday

May 29

Astrological Sign

[3] Taurus

Blood Type

O+

Persona

Creative

Sexuality

[4] Bisexual

Personal Status
Clique

????

Clubs(s)

Photography and Martial Arts

Educated in

Akademi High

Occupation

Student

Reputation

+30

Crush

?????

Lives in

Buraza Town

Personal Status
Status

Alive

Relative(s)

Unknown

Additional Info
Is rumored about having fake bunny ears.
Appearance
Bani has Red hair and red bunny ears. She has teal eyes. She has short hair and has long bangs that cover her left eye covering half of her scar. She has a strand of hair on top of her head sticks out also. Wears Uniform #5.
Personality
Bani is a Creative Persona. She will take anythind to protect her self. She loves taking photos of everything. She is in the Photography club since she loves taking photos.
Routine
7:00-7:12: Banī will go to her locker.
7:12-7:45: Annoys the delinquents.
7:40-8:00: Sits on the fountain in the courtyard.
8:00-1:00: Goes to class 3-2.
1:00-1:30- She would go to the Martial Arts club and talk and eat with Budo.
1:30-3:30- Goes to class 3-2.
3:30-6:00- Helps clean up the school and leaves.
Ad blocker interference detected!
Wikia is a free-to-use site that makes money from advertising. We have a modified experience for viewers using ad blockers

Wikia is not accessible if you've made further modifications. Remove the custom ad blocker rule(s) and the page will load as expected.