| | |
| --- | --- |
| | This OC is owned by Cirno2019. Ask for permission if you want to use it. |
Akira Akiyama
Alias

Aki-chan

Characteristics

Race

Human

Gender

Female

Pronouns

She

Age

16

Birthday

Feb 28

Astrological Sign

Pisces

Blood Type

OP

Persona

Kuudere

Sexuality

Hetrosexual

Personal Status

Club(s)

Light Music

Educated in

Akademi High School

Reputation

0

Crush

Haru Tamaki

Lives in

Buraza Town

Personal Status

Status

Alive

Relative(s)

Aya Akiyama

Additional Info
A kuudere in love.
Akira Akiyama is an OC that belongs to WikaWika2005.
Appearance
Akira wears a ponytail to the left with a bow. Akira wears purple panties and a custom uniform with purple stockings.
Personality
Akira is a very quiet person and is considered a kuudere. She will not react to murders unless it's a person she really cares about. Akira is very calm unlike her sister Aya Akiyama.
Persona
Akira does not react to murders.
Relationships
Aya Akiyama- They are sisters.
Naomi Hoshino- They are friends.
Haru Tamaki- Akira has a crush on him.
Jason Miyamoto- Akira doesn't really like his perverted personality.
Mika Miyamoto- Akira finds her loud personality extremely annoying.
Terry Hoshino- Akira thinks Terry is too clingy towards Tawagoto Nico.
Mandy- They like to hang out together.
Tawagoto Nico- They are good friends, Akira likes cooking for her.
Hazuki- Akira thinks Hazuki is too competitive.
Trivia
Akira is a kuudere
Akira is the vice president of the light music club in WikaWika2005's Fanon.
Akira expresses feelings even though she is a kuudere.
Gallery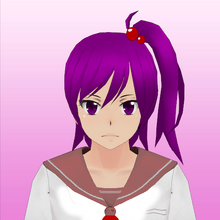 Kisekae Code
33**aa7.0.0.0.50.7.0.0.0.50_ab_ac_ba50_bb5.1_bc480.500.7.0.1_bd5_be180_ca62.0.30.62.34.34.34.0.0_cb0_da2.0.0.100_db_dd0.0.34.50.50_di5_ea9.8A789E.8A789E.56.0.0_ec3.20.8A789E.8A789E.56_ed6.50.1.1.8A789E.56_ef_eg_eh1.8A789E_r030.8A789E.8A789E.56.1.0.50.50.43.373.520.1_fa5.50.50.50.50.65.56_fb11_fc0.14.55.0.14.55.50.61.61_fd0.0.50.8A789E.56_fe50.61_ff0000000000_fg0.50_t0_pa0.0.0.0.40.50.85.85.0.0_pb_pc_pd_pe_ga0_gc0.0_ge0000000000_gh_gf_gg_gd10000000_ha80.80_hb39.1.54.99_hc0.100.47.0.100.47_hd7.1.49.49_ia2.6.6.43.0_ib0.55.55.43.0.0.0.0.5.0.0.5.0.0_id_if_ic0.21.21.21.0_jc_ie_ja32.15.2.55_jb32.15.2.55_jd6.48.50.50_je6.48.50.50_jf_jg_ka0.16.15.0_kb0.16.15.0_la_lb_oa_os_ob_oc_od_oe_of3.6.0.0.0_lc_m00.3.3.61.1.1.30.49.0.84.3.61_n0_s0_og_oh_oo_op_oq_or_om_on_ok_ol_oi_oj
Ad blocker interference detected!
Wikia is a free-to-use site that makes money from advertising. We have a modified experience for viewers using ad blockers

Wikia is not accessible if you've made further modifications. Remove the custom ad blocker rule(s) and the page will load as expected.